The Utah-based festival will kick off Jan. 23 with several day-one films and run through Sunday, Feb. 2. Director Julie Taymor's starry Gloria Steinem biopic, "The Glorias," alone features Alicia Vikander, Julianne Moore, and Janelle Monáe. The world premiere of the film will be on the Sundance festival.
The Glorias (Director: Julie Taymor, Screenwriters: Julie Taymor, Sarah Ruhl, Producers: Alex Saks, Lynn Hendee) — An equal rights crusader, journalist and activist: Gloria Steinem embodies these and more. From her role in the revolutionary women's rights movement to her travels throughout the U.S. and around the world, Steinem has made an everlasting mark on modern history. A nontraditional chronicle of a trailblazing life. Cast: Julianne Moore, Alicia Vikander, Bette Midler, Janelle Monae, Timothy Hutton, Lorraine Toussaint.
---
Alicia Vikander is among the record-setting 559 new members joining BAFTA in 2019. The new members are drawn from a mix of individuals applying directly and those who were invited. In both cases they have to pass strict vetting and fulfill eligibility criteria.
The record 2019 intake will bolster the overall BAFTA membership, which was already at about 8,000. Approximately 1,300 of those members are in the U.S. Being a Brit is not required; the new members are based in 11 different countries, and the wider membership is drawn from 39 territories.
Applications for membership are received first before BAFTA adds people to be invited. That allows the organization to try to ensure a wide spread of people inducted into the British Academy.
"We are fortunate to have a membership that broadly reflects the industry, but we don't want to rest on our laurels. We know there is systemic under-representation in some parts of the industry," Emma Baehr, director of awards and membership, told Variety. "We are committed long-term to creating opportunity, and so our aim every year is to make the new membership intake as inclusive as possible, and that's across different roles in the sectors. And we do also absolutely prioritize individuals from under-represented areas."
---
November 2019 – "When you have hope the whole world can change before your eyes."
Committed for ten years now in empowering millions of children to build a better future through education, Bvlgari and Save the Children celebrate their partnership by launching the new #GiveHope campaign, shot by photographer Rankin.
Lily Aldridge, Ursula Corbero, Alicia Vikander, Lady Kitty Spencer, Laura Harrier, Eva Green, Nieves Alvarez, Maria Pedraza, Carina Lau, Isabella Ferrari, Maya Henry, Nadine, Kristina Bazan, Lilly De Wittgenstein, Emilia Schuele, Paolo Stella, Evangelie Smyrniotaki, Mario Casas, Karena Lam, Svetlana, Aseel Omran, Candela Pelizza, Giulia Maenza, Ginevra Bulgari, Carlota Bulgari, Bvlgari CEO Jean-Christophe Babin and Rankin himself have posed for the charity campaign, joining Bvlgari and Save the Children in their ambition to give a tangible hope to the most vulnerable children. A dream so far shared by the over 300 celebrities involved in the cause since the beginning of the partnership.

---
LONDON (Reuters) – Swedish-born Oscar winner Alicia Vikander performs in both English and Japanese in her new movie, thriller "Earthquake Bird", as she immerses herself in 1980s Tokyo.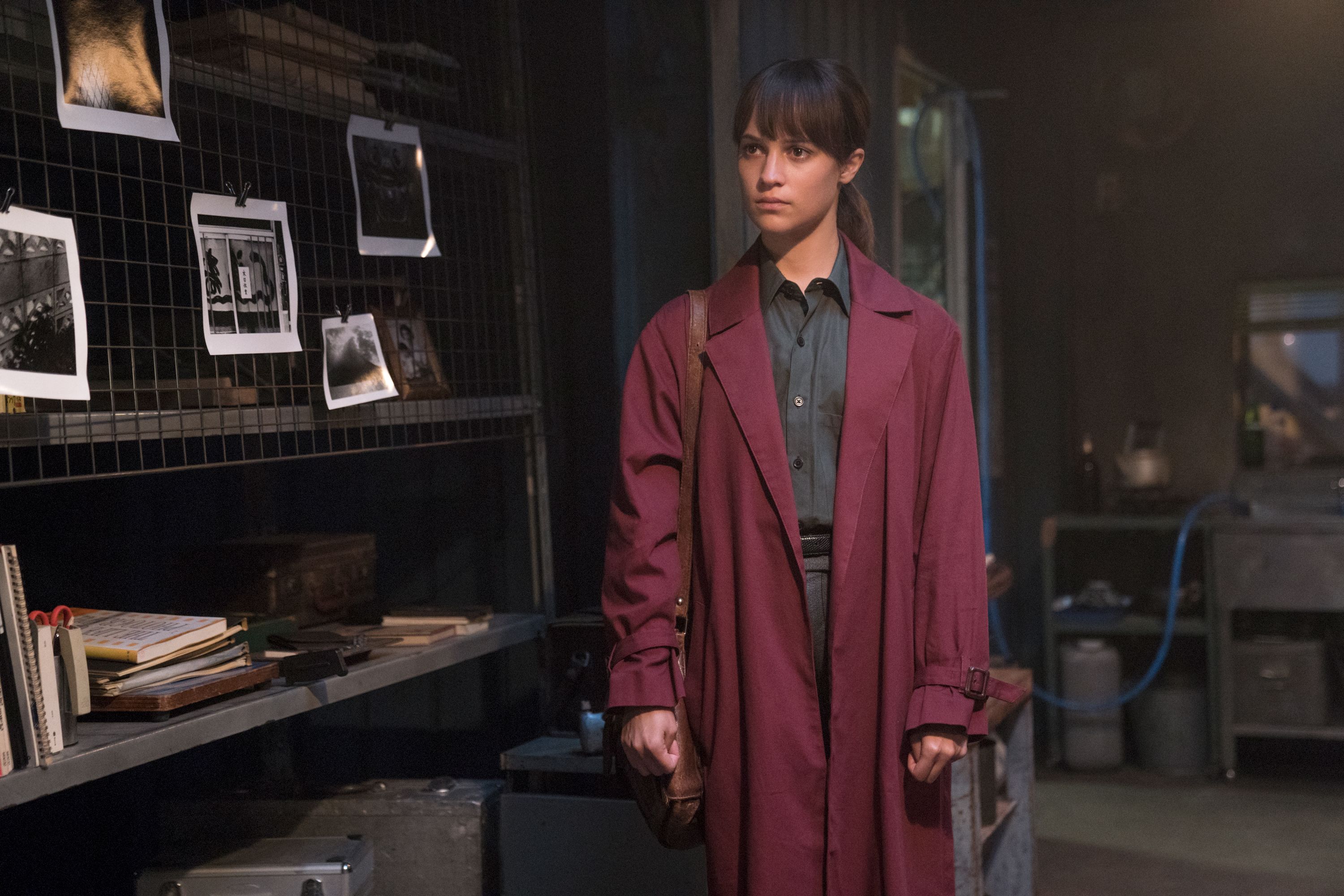 The actress portrays an expat translator caught up in a love triangle in the film, directed by Wash Westmoreland and based on the novel of the same name by Susanna Jones.
Vikander's character Lucy Fly begins a romantic relationship with photographer Teiji (Naoki Kobayashi) but things start to unravel with the arrival of fellow expat Lily Bridges, played by Riley Keough.
Reuters spoke with Vikander – who played cyborg Ava in "Ex Machina" and won an Oscar for "The Danish Girl" – and with Westmoreland about the movie, released on streaming service Netflix on Friday.
Below are edited excerpts.
Q: Is speaking Japanese a hidden talent of yours?
Vikander: "I always had this dream of going to Japan, it was the one country that I wanted to go to. I managed to go there like three … four years ago for the first time for press and then, the second time, I just said, 'oh my God, I just want to be in this culture for a longer period of time' but the only thing that would make that happen is if a film would be made here."
"(The film) was an opportunity for me, to embrace myself in that culture and go there."
Q: Your characters Ava and Lucy, were they uniquely difficult to embody?
"My, kind of, revelation when I prepped for (Ava), was realizing that when I made her like a refined human, like a human 2.0, if I made all the human-like movements, but I just made them a bit more refined and without twitches, then it felt a bit off … With Lucy … she's more expressive in a way. She tries to hold it back but I don't think she really can."
Q: How much is "Earthquake Bird" an exploration of love versus obsession?
Westmoreland: "It really looks at this relationship between these two characters and it's more to do with their past, and particularly … damaging experiences (Lucy) had in the past. Their relationship has both elements of love and obsession because there is something that connects the characters very deeply but there's also something that keeps the characters apart."
Q: I recently spoke with (director) Brian de Palma, who was asking what 'happened to beauty in cinema'. Here, picture quality and a hint of the 1980s are noticeable – was that on purpose?
Westmoreland: "(With) cinematographer Chung-hoon Chung … and Yohei Taneda, my production designer, we started talking about the colors and the palette and this kind of Tokyo blue-grey. It's the color the city goes after sunset so we wanted that to permeate the film… We wanted to create this world that was immersive."
---
Do you own a pair of ice-skates? And What are your feelings about ABBA? We sat down with Alicia Vikander, the star of Netflix's Earthquake Bird, to test her Nordic-ness in a game of How Nordic Are You?
---
Oscar winning actress, Alicia Vikander the star of 'Tomb Raider', 'The Danish Girl' and now Netflix's new thriller film, 'Earthquake Bird' joins GLAMOUR UNFILTERED and opens up about standing up for herself in sex scenes and how she is glad she had an 'inner compass' at the beginning of her career to deal with the, 'moment when you were afraid.' Speaking in a rare and personal interview to GLAMOUR the Swedish born actress also shares the biggest earthquake in her own life, quitting ballet and how it felt like, 'I had created this horrific moment of letting people down.'
---
1. The filmmaker meets the band …
Looking for some inspiration after finishing 20th Century Women, writer-director Mike Mills reached out to the National's Matt Berninger about doing a video for the group's 2017 album, Sleep Well Beast. (Mills has always loved the band and listens to its music while he writes.) Berninger, himself a fan of Mills, handed over a dropbox of cast-off fragments from various recording sessions and told the director, "Whatever you want to do, we'd be up for."
2. The actress meets the filmmaker …
Alicia Vikander had reached out to Mills after seeing his film Beginners,saying she'd like to collaborate, and the two kept in touch over the years. Mills invited her to brunch with him and his friends when she visited L.A.
3. The actress and the director come up with a concept …
Vikander, a trained dancer, told Mills she wished she could use those skills in something. This fit with an idea Mills had for a short: "Reducing a life to a list and including highly banal things alongside highly poignant things, flattening it all out." Mills also felt Vikander had the technical ability to play someone from a baby to an old woman without makeup. The events in the script varied from an abortion, to a marriage, to an affair, to death.
4. The concept becomes a film …
Vikander improvised the character's life from the bare outline of Mills's script, which she recalls nearly brought her to tears. She came up with everything from the way the character dances to how she walks as a toddler: "I was YouTube-ing baby videos." Mills appreciated that this made his life easier. "I directed the least I've ever directed," he says. Vikander suggests Mills did a lot more. "He's like a good conductor," she says.
5. The film becomes an album …
Mills assembled the soundtrack by sampling from the music Berninger had sent him. After seeing early cuts of the short, the band decided to both refine the fragments in the film and expand on the ideas in a full-length album. "Mike Mills threw a little flashlight in a bunch of different directions, and of course we all went running after it," Berninger says. He and his wife, Carin Besser, who took on a larger role in writing lyrics for this album than she had in the past, wrote new songs inspired by the themes from Mills's film.
6. The director helps produce the album …
In the studio, Mills offered radical suggestions that redirected the National's sound. "We're critical of ourselves, and we edit things down to kind of destroying them," says band member Aaron Dessner. "Mike was more generous, like, No, I want this to breathe and to be big and to have drastic shifts in tone." Mills's presence also changed the National's working dynamic. "Aaron and I have been fighting on the same playground for 20 years," Berninger says. "And some guy comes [and] gets the Greasers and the Socs to get along."
7. The album changes the band's sound …
The 24-minute film Mills and Vikander made helped forge a new direction for the National. "For me, it's an ode to this woman," Mills says. "It smells to me like a bunch of men thinking about women and trying to do justice in some kind of portrait of them." In keeping with these themes, the National added new voices with guest appearances on the album by female vocalists such as Lisa Hannigan, Eve Owen, Sharon Van Etten, Mina Tindle, and Kate Stables.
8. … The director titles the band's album
Mills insisted on using the lyric "I am easy to find" from a song called "Washington" as the album's name and asked to retitle the song as well. He thought the deceptively fugitive phrase captured the themes of the film and the album. "[Vikander's character] is in every shot," Mills says. "It's like, 'I'm easy to find, but I'm not.' It's not revealing the thing; it's just saying that it is easy to find the thing."
---
Oscar winner Alicia Vikander just added a new hyphen to her considerable list of talents: that of producer. The 27-year-old Swedish actress has launched her own production banner Vikarious Productions along with her London-based agent Charles Collier of Tavistock Wood. The company has set its first feature, Euphoria, with Vikander also set to star alongside Eva Green as sisters in conflict traveling through Europe towards a mystery destination. The project marks the English-language directorial debut of award-winning Swedish writer/director Lisa Langseth, who previously collaborated with Vikander on two Swedish-language pics, Pure and Hotell. Euphoria is a production with Sweden's B-Reel Films' Patrik Anderson and Frida Bargo, and starts shooting in the German Alps in early August.
"Euphoria is Lisa's third film as writer and director. I have worked with her on each of them and I jumped at the chance to do so again," said Vikander. "It's a uniquely European approach, enabling me to work with a great Swedish team alongside my colleagues in London. It is a profound story about the journey of two estranged sisters, full of suffering but also full of joy, and squaring up to very important subject matter. It also has compelling female voices and is packed to the rafters with female talent both sides of the camera. All these ingredients made this film the obvious choice for our first film at Vikarious. Charles and I will be developing more films in this space over the next 24 months."
The news further cements Vikander's stratospheric rise and is testament to her formidable drive and ambition. Last week, she was confirmed as Lara Croft for MGM, Warner Bros and GK Films in Tomb Raider. The reboot will tell the story of a young and untested Lara Croft fighting to survive her first adventure. Roar Uthaug (The Wave) is directing. MGM and Warner Bros are co-producing the film with MGM overseeing production. They acquired film rights from GK Films, which had previously purchased film rights in 2011 from Square Enix LTD. Graham King is serving as producer.
Read Full Article
---