Cutoff time has revealed that Amy Jump has been employed by MGM and Warner Bros to compose the content for the spin-off, evidently because star Alicia Vikander preferred what she found in Jump's work.
Hop is most popular for her work with Ben Wheatley, the chief behind faction British films Free Fire, Kill List, and High-Rise, and on September 4, it was affirmed that Wheatley would be coordinating the continuation.
Tomb Raider 2 discharge date: When will it show up?
Alongside the declaration of Wheatley as an executive, Warner Bros affirmed a discharge date of March 19, 2021, for the spin-off.

Tomb Raider 2 cast: Who's returning?
Alicia Vikander will be back as Lara Croft and even communicated enthusiasm for playing Lara again before the arrival of the principal motion picture.
Somewhere else, it's not as evident who will return. In any case, if the continuation gets from the primary motion picture's consummation (more on that in a piece), we can expect Kristin Scott Thomas to return as Ana Miller.
Dominic West is probably not going to return as Lara's dad Lord Richard Croft after he relinquished himself to spare his little girl, while miscreant Mathias Vogel (Walton Goggins) additionally kicked the bucket in the principal film.
Possibly Daniel Wu will be back as Lu Ren, the ship commander who helped Lara discover her dad and get away from Yamatai.

Tomb Raider 2 plot: Any indications?
After Lara spared the world and halted the savage infection getting away from the tomb, she came back to London and acknowledged her place in her dad's organization.
So the credits scene sees Lara purchase the notorious twin firearms from the computer game, resolved to carry on her dad's work to stop Trinity.
Regardless of whether the spin-off proceeds with this string of Lara's fight against Trinity is not yet clear, but on the other hand, there's the open door for the spin-off of simply set up another tomb and mission for Lara, totally withdrew from the first motion picture.

Tomb Raider 2 trailer: When will it land?
You can do all the chasing you need, yet there won't be a trailer for quite a while yet. With a 2021 discharge date affirmed, we could expect a first take a gander at Comic-Con 2020.
---
The Utah-based festival will kick off Jan. 23 with several day-one films and run through Sunday, Feb. 2. Director Julie Taymor's starry Gloria Steinem biopic, "The Glorias," alone features Alicia Vikander, Julianne Moore, and Janelle Monáe. The world premiere of the film will be on the Sundance festival.
The Glorias (Director: Julie Taymor, Screenwriters: Julie Taymor, Sarah Ruhl, Producers: Alex Saks, Lynn Hendee) — An equal rights crusader, journalist and activist: Gloria Steinem embodies these and more. From her role in the revolutionary women's rights movement to her travels throughout the U.S. and around the world, Steinem has made an everlasting mark on modern history. A nontraditional chronicle of a trailblazing life. Cast: Julianne Moore, Alicia Vikander, Bette Midler, Janelle Monae, Timothy Hutton, Lorraine Toussaint.
---
Alicia Vikander is among the record-setting 559 new members joining BAFTA in 2019. The new members are drawn from a mix of individuals applying directly and those who were invited. In both cases they have to pass strict vetting and fulfill eligibility criteria.
The record 2019 intake will bolster the overall BAFTA membership, which was already at about 8,000. Approximately 1,300 of those members are in the U.S. Being a Brit is not required; the new members are based in 11 different countries, and the wider membership is drawn from 39 territories.
Applications for membership are received first before BAFTA adds people to be invited. That allows the organization to try to ensure a wide spread of people inducted into the British Academy.
"We are fortunate to have a membership that broadly reflects the industry, but we don't want to rest on our laurels. We know there is systemic under-representation in some parts of the industry," Emma Baehr, director of awards and membership, told Variety. "We are committed long-term to creating opportunity, and so our aim every year is to make the new membership intake as inclusive as possible, and that's across different roles in the sectors. And we do also absolutely prioritize individuals from under-represented areas."
---
November 2019 – "When you have hope the whole world can change before your eyes."
Committed for ten years now in empowering millions of children to build a better future through education, Bvlgari and Save the Children celebrate their partnership by launching the new #GiveHope campaign, shot by photographer Rankin.
Lily Aldridge, Ursula Corbero, Alicia Vikander, Lady Kitty Spencer, Laura Harrier, Eva Green, Nieves Alvarez, Maria Pedraza, Carina Lau, Isabella Ferrari, Maya Henry, Nadine, Kristina Bazan, Lilly De Wittgenstein, Emilia Schuele, Paolo Stella, Evangelie Smyrniotaki, Mario Casas, Karena Lam, Svetlana, Aseel Omran, Candela Pelizza, Giulia Maenza, Ginevra Bulgari, Carlota Bulgari, Bvlgari CEO Jean-Christophe Babin and Rankin himself have posed for the charity campaign, joining Bvlgari and Save the Children in their ambition to give a tangible hope to the most vulnerable children. A dream so far shared by the over 300 celebrities involved in the cause since the beginning of the partnership.

---
LONDON (Reuters) – Swedish-born Oscar winner Alicia Vikander performs in both English and Japanese in her new movie, thriller "Earthquake Bird", as she immerses herself in 1980s Tokyo.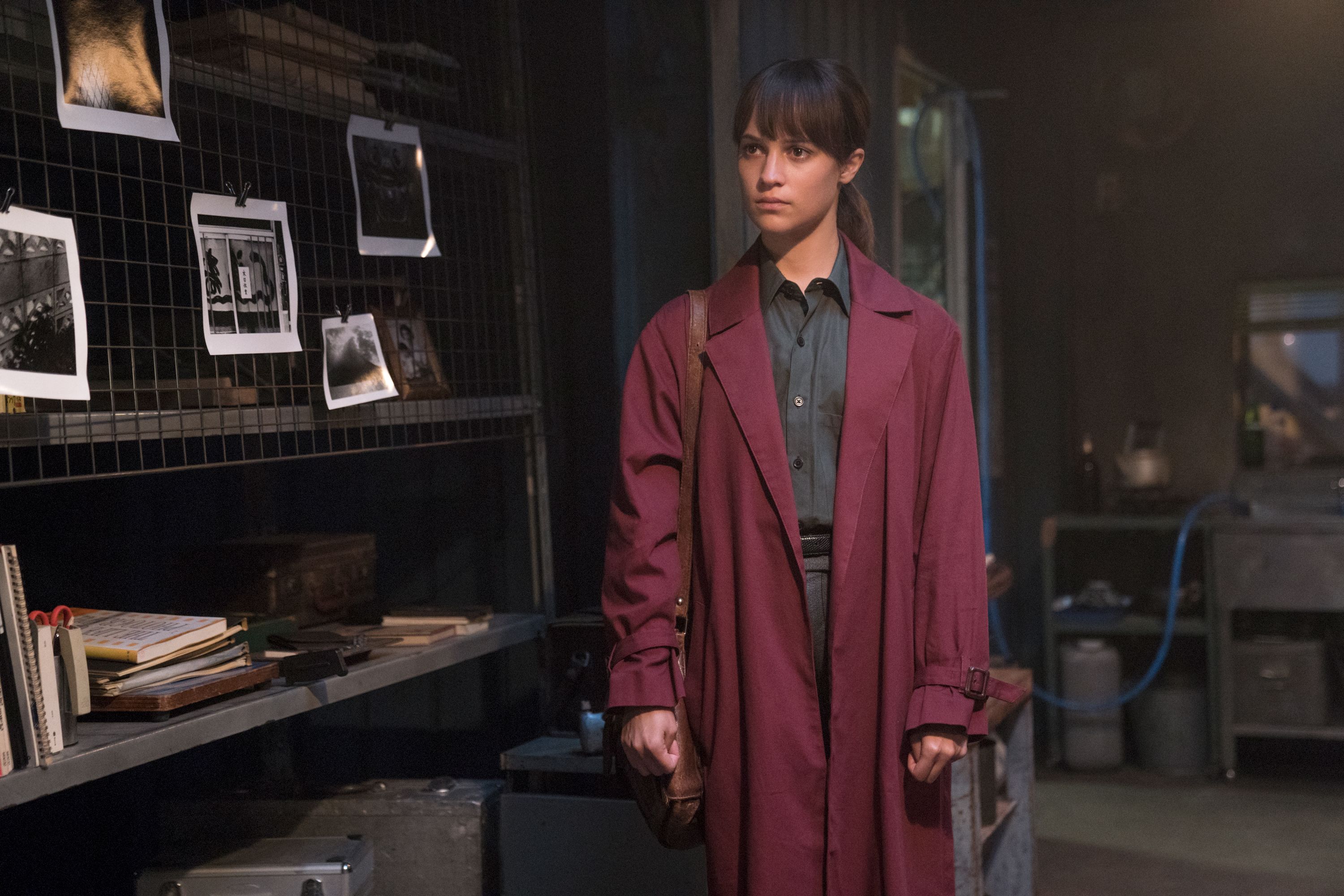 The actress portrays an expat translator caught up in a love triangle in the film, directed by Wash Westmoreland and based on the novel of the same name by Susanna Jones.
Vikander's character Lucy Fly begins a romantic relationship with photographer Teiji (Naoki Kobayashi) but things start to unravel with the arrival of fellow expat Lily Bridges, played by Riley Keough.
Reuters spoke with Vikander – who played cyborg Ava in "Ex Machina" and won an Oscar for "The Danish Girl" – and with Westmoreland about the movie, released on streaming service Netflix on Friday.
Below are edited excerpts.
Q: Is speaking Japanese a hidden talent of yours?
Vikander: "I always had this dream of going to Japan, it was the one country that I wanted to go to. I managed to go there like three … four years ago for the first time for press and then, the second time, I just said, 'oh my God, I just want to be in this culture for a longer period of time' but the only thing that would make that happen is if a film would be made here."
"(The film) was an opportunity for me, to embrace myself in that culture and go there."
Q: Your characters Ava and Lucy, were they uniquely difficult to embody?
"My, kind of, revelation when I prepped for (Ava), was realizing that when I made her like a refined human, like a human 2.0, if I made all the human-like movements, but I just made them a bit more refined and without twitches, then it felt a bit off … With Lucy … she's more expressive in a way. She tries to hold it back but I don't think she really can."
Q: How much is "Earthquake Bird" an exploration of love versus obsession?
Westmoreland: "It really looks at this relationship between these two characters and it's more to do with their past, and particularly … damaging experiences (Lucy) had in the past. Their relationship has both elements of love and obsession because there is something that connects the characters very deeply but there's also something that keeps the characters apart."
Q: I recently spoke with (director) Brian de Palma, who was asking what 'happened to beauty in cinema'. Here, picture quality and a hint of the 1980s are noticeable – was that on purpose?
Westmoreland: "(With) cinematographer Chung-hoon Chung … and Yohei Taneda, my production designer, we started talking about the colors and the palette and this kind of Tokyo blue-grey. It's the color the city goes after sunset so we wanted that to permeate the film… We wanted to create this world that was immersive."
---
Do you own a pair of ice-skates? And What are your feelings about ABBA? We sat down with Alicia Vikander, the star of Netflix's Earthquake Bird, to test her Nordic-ness in a game of How Nordic Are You?
---
Oscar winning actress, Alicia Vikander the star of 'Tomb Raider', 'The Danish Girl' and now Netflix's new thriller film, 'Earthquake Bird' joins GLAMOUR UNFILTERED and opens up about standing up for herself in sex scenes and how she is glad she had an 'inner compass' at the beginning of her career to deal with the, 'moment when you were afraid.' Speaking in a rare and personal interview to GLAMOUR the Swedish born actress also shares the biggest earthquake in her own life, quitting ballet and how it felt like, 'I had created this horrific moment of letting people down.'
---
The Oscar winner talks to Patrick Smith about sexism on set, the battle for equal opportunities and speaking out against intrusive media coverage
When she was a young girl in Gothenburg, Alicia Vikander dreamt of a life in tutus. At 15, she moved to Stockholm and attended the Royal Swedish Ballet School, where she would dance seven hours a day, six days a week. Eventually, a chronic back injury put paid to her ambitions, but not before it had equipped her for Hollywood. "I'm very good with pain," the Oscar-winning star of The Danish Girl explains. Moments later, she rolls up her trousers to reveal a recent scar on her knee. "Skiing," she says in a stage whisper, gesturing towards her management team across the room. "But don't tell them." 
A high pain threshold helped the 31-year-old with the 2018 Tomb Raider reboot, for which she put on 12 pounds of muscle through weight training, rock climbing, swimming and MMA fighting. Her Lara Croft tempered being a badass with bruised vulnerability; her running, jumping and tumbling was defined (naturally) by a balletic grace. The dance training was there, too, in her laser-guided performance as a feminised android in Alex Garland's sleek sci-fi thriller Ex Machina (2015). Adding a touch of artifice to the most natural movements – a raised eyebrow here, a tilt of the head there – she was at once bewitching and unnerving.
Vikander – who lives in Lisbon with Michael Fassbender, her husband and co-star in 2016's The Light Between Oceans – meets me in a restaurant in central London. She's wearing a double-breasted grey suit; a gold pendant shaped like a hand dangles from her neck. Emanating a breezy contentment, she has an indeterminate European accent that suggests no fixed abode. After passing up the chance to go to law school, she's seen a steady upward trajectory since her first role in the 2010 film Pure. Within a couple of years, she had appeared as the sheltered Kitty in Joe Wright's Anna Karenina and, from then on, has rarely returned to her homeland.
Today we are talking about her new Netflix film Earthquake Bird. Based on the book by Susanna Jones and directed by Wash Westmoreland (Still Alice, Colette), it's a puzzle-box thriller about a deadly love triangle in 1989 Tokyo. It's pulpy and slow-burning, with shades of the American noirs of the Seventies. And as Lucy Fly, a prim Swedish translator in Japan, Vikander is the best thing about it, her face a canvas of guilt, obsession and stoic defiance. Vikander, who learnt Japanese for the role in eight weeks, says the film is not "just murder mystery, but a mystery to get to know Lucy and figure out whether you can trust her".
A review of the book, written by AN Wilson and published in The Daily Telegraph in 2002, called it "one of the best accounts of female sexuality, that subject of and mystery for any male reader". "I think female sexuality is a mystery to anyone," says Vikander when I quote the review back to her. Is it a problem, I wonder, that some male critics see female sexuality as a mystery to be solved? "It's due to history that this male view has been allowed to build up. In this case, it sounds like it's more [that critic's] own fantasy that he puts on other women than actually talking about women's own mystery. That's probably why it sounds wrong." 
Vikander was mostly raised by her mother, actress Maria Fahl Vikander, after her parents' separation. She has been one of many high-profile women in Hollywood pushing for change in an industry known for gender inequality and male entitlement. In 2017, she signed an open letter against sex abuse along with nearly 600 other Swedish actresses. Three years earlier, she had filmed one of the last movies produced by Harvey Weinstein, Tulip Fever, but has said nothing untoward happened, despite the fact that she'd "heard he was an incredible bully and that he does anything to get what he wants".
When the Weinstein scandal broke, she recalled feeling "shock and disgust". Yet before the #MeToo movement was triggered, Vikander starred in a film that now seems uncomfortably prescient. In Ex Machina, she played a robot servant to Oscar Isaac's tech guru. The film was not only a reflection on humanity's hubris, but also, I suggest, an allegorical tale about male ownership and objectification of the female body. She agrees, adding: "Sadly, this is what the world tends to do to women. For me, [my character] was a girl in a cage who needed breaking out. That's how I saw it." 
Vikander's own body came under scrutiny when she picked up the mantle from Angelina Jolie in the Tomb Raider franchise. One of the most egregious criticisms was that her breasts were not as pointy as Lara Croft's in the original Nineties video game. Vikander admits it felt "invasive". But, she adds, "the more and more people who mentioned it, the more I saw opportunities to speak out against it, and people seemed to be encouraging that at the end. It was an opportunity to show off a new kind of female role model." 
Vikander has experienced sexism on set, too. Indeed, in 2018, she revealed that Julianne Moore came to her defence after a man made a crude joke at her expense while they were shooting the 2014 fantasy Seventh Son. "I was really embarrassed, and I would have just laughed it off," Vikander told Vogue, not naming the culprit. "But Julianne turned to him and said, 'If you ever do that again, I'm walking out of here and I'm not coming back.' She was just, like, 'Don't you f***ing say that again.' It showed me that she had the power." 
Meeting Vikander, you get a sense she relishes speaking out about prejudice in Hollywood, although she rarely finishes a sentence before she's vaulting off onto her next thought. As well as sexism and abuse, there is the age-old issue of actresses being pitted against each other. Does she think this has started to diminish?
"It makes me sad to say this, but women are very harsh against one another," she says. "It's all based on history and what we've been taught growing up and what is standard in society. I actually did a course in unconscious bias two weeks ago that was so interesting. Because women's brains have been hard-wired to be like, 'Oh, it's a room, there must be like, two women here and 18 men.' So, if I'm going to get my voice heard, I'm going to really have to speak up to get a chance. Over the last few years, the awareness that is being spread really changes the hard-wiring of your brain and you realise, 'No, wait a minute, this is a bit strange.'" 
The most noticeable change, she says, is that more women are being hired on film sets. I mention that intimacy coordinators are being brought in more regularly to ensure that actors never feel uneasy during sex scenes. "I've only just heard about that," says Vikander. "I normally just do one take and I don't bother doing two. It's… the most uncomfortable thing for anyone to do. Nobody should ever be put in that situation where that is taken advantage of."
Her naked scene with Eddie Redmayne in The Danish Girl, Tom Hooper's fictionalised biopic of the transgender artist Lili Elbe, was tender and full of pathos. While images of it made the tabloids, it was the casting of Redmayne as one of the first people to undergo sex reassignment surgery that received the most column inches, with many representatives of the LGBT+ community arguing an actual transgender woman should have been given the role. I put this to Vikander. "It's hard for me to talk about people in that situation, trans women and men," she says. "But I do believe in being an actor. I want it to be that anyone can play anything. In movements like this, you need to make a stand and push for things to change. I think when trans men and women are playing cisgender and anyone can be up for any part, that's where we want to get to."  
For Vikander, the way forward is to make sure equal opportunities are not simply a fad. "It's getting the chance to get into the room and be up for a part because, as we know, not long ago women weren't getting those chances," she says with a smile. "Now, we've come this far, thankfully – that change is happening."
---